All about Richard: Review of Bell Shakespeare's Richard III
When Richard, Duke of Gloucester is playing the part of a pious Christian who wishes to remain in prayer and shirk his kingly duties – all part of his scheming to nab the crown, of course – he persuades those onstage too well. Led by Buckingham, they begin to turn away. Richard turns to the audience and asks: 'Shall I call them back again?' (A line adapted from 3.7). So infectious was Richard's joy in his villainy, that some in the audience answered back: 'Yeah!' Kate Mulvany as Richard was delighted by this fourth wall break. 'Yeah?' she repeats, smirking, before returning to do just that. This moment epitomises this production's reliance on Richard: it is a vehicle for a star – and Mulvany easily rises to the challenge, throwing herself into Richard with visible and contagious enthusiasm.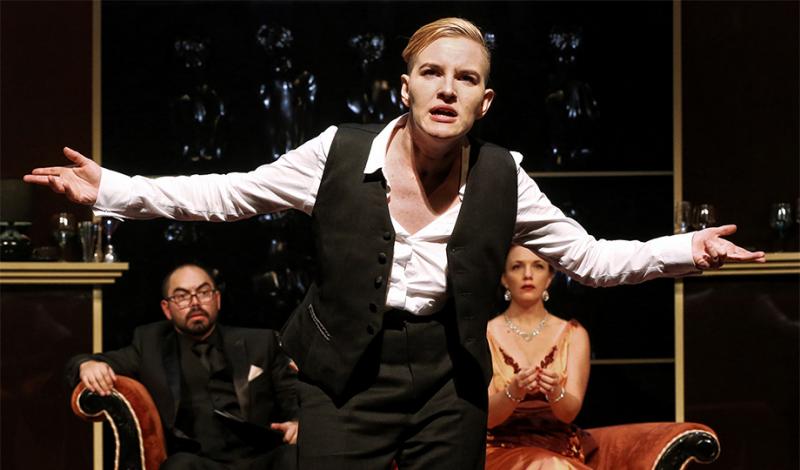 Bell Shakespeare's production of Richard III – currently playing in Sydney – features female actor Kate Mulvany in the title role. But this is not about gender bending. Even though Mulvany's Richard at one point strips to his underwear, demanding 'Look how I am bewitched!' (3.4.67), the power of this performance does not lie in giving a misogynistic role to a woman, but rather is driven by the clear enjoyment Mulvany takes in playing Richard: she appears to absolutely relish the role. Her facial expressions are entrancing: the classic smirk, head-tilted; the joyous knowing glances shared with the audience; the narrowing of the eyes when he is threatened, challenged, or thinking. The elegant black and white suit and shiny, pointed shoes emphasise the sway of her body and the shape of her hips; her left arm cradled in her waist as if her body was shaped around it. Productions have, over the years, dramatically varied the way in which Richard's physical disability is presented. This production, directed by Peter Evans, goes the traditional route. Simply the way Mulvany occupies the chairs and lounges speaks volumes: her physical performance is quite masterful.
The production design (Designer: Anna Cordingley) seemed to point to the 1995 film version of the play, directed by Richard Loncraine and starring Ian McKellen in the title role. Its period furniture, lazy decadence, the maroon and peach tones of the costumes and set, even the casual smoking of the cast, lends the production almost a Gatsby-esque mood. Lighting (Benjamin Cisterne) and sound (Sound Design: Michael Toisuta; Composer: Steve Toulmin) were snappy and well-timed, reinforcing cleverly Richard's manipulation of events.
Breaking apart this period design at upstage centre are three rows of busts: initially lit up in a neon purple glow. These busts show us moulds of a human body from the waist up, facing away from us. The moulds show the body in various positions, the back stretching, arching, the shoulders reaching. There is no forgetting Richard's hunchback here: it is memorialised in the art onstage.
Some of the production choices felt extraneous and seemed to muddy the waters. The use of a dumb waiter on stage left, with a corresponding TV screen placed high on stage right showing its contents, felt distracting and irrelevant. It hinted at some sort of external control but did not feel integrated or necessary. The repeated songs and hymns – usually during set transitions – also did not always enhance the meaning, and I felt the repetition of Jerusalem was laboured.
The cast largely remain onstage, and the set does not change – although the cast move the furniture about to mark key transitions. The effect should have been intensifying and claustrophobic, and I like the idea behind this choice: that the characters are trapped in 'an unending party that no one can leave' (Program Notes, p.9). This is made explicit by a repeated dance/movement sequence in which the characters re-enact the movements of a party – but without the joy. They dance, they drink, they kiss, they fall, they fight – but it is always the same, whoever the ruler. It's a strange joyless merry-go-round of kings.
However, the sole location of an upper class living room reduced the power of scenes like the murders in the Tower and the final battle: it was oddly disenchanting to watch long swords drawn among the chaise longues and antique chairs. It looked like children playing; which, perhaps, says something about the behavioural patterns of the powerful. This resonates with Peter Evans' comment about the play's relevance: 'For our times, this play is completely about Trump' (Program Notes, p.8). The director's stated attempt to link to current politics (something not brought out explicitly in the production itself), calls to mind Jan Kott's statement that:
Shakespeare is like the world, or life itself. Every historical period finds in him what it is looking for and what it wants to see. A reader or spectator in the mid-twentieth century interprets Richard III through his own experiences. He cannot do otherwise. (Jan Kott, Shakespeare Our Contemporary, London: Methuen & Co, 1965, p. 5).
Standout moments of this production include the infamous wooing of Lady Anne (a strong performance from Rose Riley), and the fierce and fast exchange between Richard and Queen Elizabeth (Meredith Penman), who powerfully embodies the queen who receives and then loses everything. The playing of the Prince not as a simple innocent but as a teenage, brattish, potentially dangerous young ruler was effective and clever.
The final lines of this production are not Richmond's promises of peace, but rather belong to Richard III's lines from Act 5, scene 6 of Shakespeare's Henry VI Part 3:
For I have often heard my mother say

I came into the world with my legs forward:

Had I not reason, think ye, to make haste,

And seek their ruin that usurp'd our right?

The midwife wonder'd and the women cried

'O, Jesus bless us, he is born with teeth!'

And so I was; which plainly signified

That I should snarl and bite and play the dog.

Then, since the heavens have shaped my body so,

Let hell make crook'd my mind to answer it.

I have no brother, I am like no brother;

And this word 'love,' which graybeards call divine,

Be resident in men like one another

And not in me: I am myself alone. (5.6)
At this moment, though, Richard should be dead. His party is over. Richmond (played during this performance by Timothy Dashwood) has killed him and immediately departed; his concluding lines cut. But Evans' production is not interested in demonstrating the alliance of Richmond and the young Elizabeth or the unification of 'the white rose and the red' (5.5.19). The co-option of these Henry VI Part 3 lines reinforce that this production is less interested in its broader socio-political context and more focused on Richard's internal life and the sad, lonely relationship between Richard and himself.
Richard III is currently playing at the Sydney Opera House.