A fresh Juliet amid old costumes - Bell Shakespeare's Romeo and Juliet

Bell Shakespeare's first play of 2016 is
Romeo and Juliet
. This is also the first year without John Bell at the helm.
Director Peter Evans and designer Anna Cordingley give us an interesting mix of new and old. The costumes gesture towards the early modern period; with Juliet in a warm golden orange and her mother a brighter, more vulgar red. This works better for the women than the men: the Nurse (Michelle Doake) is able to draw much comedy from flapping her skirts around, flustered, in several scenes. The audience are pulled closer to Juliet during her soliloquy when she speaks directly to us, dress removed, but hoop skirt and bumroll still in place – a revealing moment literally and emotionally. The male costumes, however, come across as more emo-esque than early modern and did not seem to add much to the production. You can read more about Cordingley's choices
here
.
The production also gestures towards this mix of old and new with its scaffolding design. The stage features a smaller, conventional proscenium arch stage positioned slightly off-centre on stage left and at an angle to the audience. Adjacent balconies on the upper stage right balance this out. But what the actors make more use of is the scaffolding, which dominates visually, creating multiple levels and, of course, providing access to and from the balcony space. The scaffolding seemed to me to jar with the period stage and costuming; but perhaps, again, the production sought to expose the bones of the play – exposing the layers of Juliet's costume just as it does the scaffolding.
Juliet (Kelly Paterniti) blossoms as an enthusiastic child thrown into a situation beyond her ability to control or even fully comprehend. Paterniti avoids turning Juliet into a victim or a whinger; she is passionate, thoughtful, funny, empathetic, and centres the play. By contrast, Alex Williams as Romeo felt immature and undeveloped, his moody moping again akin to an 'emo' feel.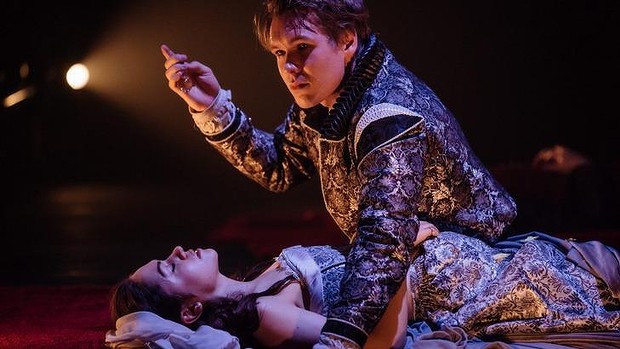 Damien Strouthos, a staple in recent Shakespeare productions for Bell and
Sport for Jove
, was characteristically strong as Mercutio, with Jacob Warner offering a solid complement as Benvolio.
The play continued to integrate novel and older elements with mixed results. Swordplay was effective and well-choreographed (with Nigel Poulton as Fight and Movement Director), but the light boxes carried by the actors (and used for intimate lighting in the final moments) seemed out of place (Lighting Designer Benjamin Cisterne). They reminded me of the early modern theatre's indoor lighting effects, but in square modern boxes they lost their intimacy and romance. Often I became aware of a pulsing sound driving the background music, which again was not in keeping with a period aesthetic but added tension effectively (Kelly Ryall as Composer and Sound Designer).
With Juliet's strong performance, Evans' production feels firmly to belong to her. Romeo, even the fighting houses of Capulet and Montague, seem to be somewhat stuck on the periphery, as the production is more interested in (or more interesting in its depiction of) this young woman.
Romeo and Juliet
is playing in Sydney until 27 March, when it moves to Canberra and Melbourne from 2 April – 1 May 2016.