Much Ado and As You Like It at Melbourne's Pop-up Globe
The
Pop-up Globe
has popped up in Melbourne with two theatre companies showing a tragedy and comedy apiece. The Pop-up Globe King's Company is performing
As You Like It
and
Henry V
, and the Pop-up Queen's Company is performing
Much Ado About Nothing
and
Othello
.
The Pop-up Globe's construction is informed by the research of University of Sydney Associate Professor Tim Fitzpatrick and Pop-up Globe Founding Research Associate and Honorary Associate at University of Sydney Russell Emerson. It is a reconstruction of the second Globe, which was built after the first Globe burnt down in 1613. As noted by Fitzpatrick and Emerson in the Programme essay, this Globe is 'smaller, giving a more intimate theatrical experience' (14). Both companies made use of three doors on the stage, which I found curious as Fitzpatrick argues that the Globe 'could only have had two stage doors for entrances and exits' (15). Interestingly, due to the transient nature of the construction, the Pop-up Globe is ideally suited to testing and – in the words of David Lawrence, Head of Research and Enrichment – can 'be driven by exploration' (17). If something doesn't work, or more information on the Globe is brought to light, the structure can be adapted (15, 17). Lawrence adds: 'Pop-up Globe as a building can be the living embodiment of our research rather than a monument to caution or compromise' (17).
This spirit of whole-heartedly embracing the space and the opportunities for exploration that it provides is very much evident in the productions I attended this November: these were the two comedies on offer, Much Ado About Nothing and As You Like It.
Much Ado About Nothing is directed by Miriama McDowell and prominently reflects its New Zealand roots. Set broadly in the Pacific, this production is largely given its personality and heart by Dogberry, played with incredible energy by Kieran Mortell. Mortell's Dogberry is American, flamboyant, and functions as a hilarious, show-stealing interlocutor throughout the performance (from welcoming arriving groundlings to announcing interval to generating much of the play's physical humour). Dressed in short shorts and seeming to be in constant movement, Dogberry dives into his role engaging with the audience, taking audience interaction to new heights. He also literally climbed to new heights; one of his stand-out moments was abseiling down from the roof of the upper gallery. The use of height was something taken up repeatedly in this production; Borachio (Daryl Green) nimbly climbs up the stage to Margaret's chamber (a kind of early modern spiderman), while during Benedick's gulling his version of hiding in the arbour was sitting on a swing which ascended into the heavens, allowing him to observe from above.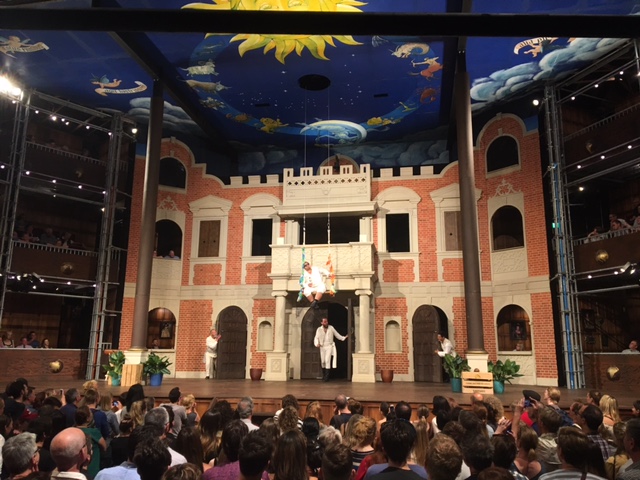 As You Like It, directed by Tom Mallaburn, and featuring an all-male cast, was also largely driven by one of its comic parts: Touchstone, played (and sung) by Michael Mahony, whose performance was pivotal to the production's success. In a similar way to Much Ado's Dogberry, Touchstone functioned as an intermediary between fictional playworld and the audience, and continued the performance outside during the interval. It would also be remiss to omit the costuming of this production in particular. While the cream tones of Much Ado's costumes (Head of Wardrobe and Designer Chantelle Gerrard) evoked Kenneth Branagh's 1993 film version, the elaborate period costumes of As You Like It (Designer Bob Capocci) were detailed and colourful (the memorable orange for Oliver and pink for Le Beau were standouts). Notably, the male costumes were far more eye-catching and elaborate than those of the female characters, especially Rosalind, modestly and plainly dressed in high-necked navy and white.
The enthusiastic, full use of the Pop-up Globe's space (including the heavens as a means to raise or descend characters including Benedick and Hymen; the trapdoor; the three doors and balcony; audience space) and the attention to audience engagement were notable and laudable features across both productions. Each cast retained a clear prioritisation of audience awareness and interaction that was upheld throughout the productions – not just a token gesture to warm up the crowd. This was one of its main successes; it generated a warm, informal, open environment that lent itself to the audience's genuine investment in the plays – because we were repeatedly reminded that the characters were aware of us, and wanted us to respond. This, I think, is the way towards what Victor Turner called 'communitas'. In Much Ado, Dogberry encouraged the audience to take photographs, and even posed for some during the production. When Claudio attempts to make amends at Hero's tomb, Don Pedro invites the audience to get out their 'torches' – resulting in a sea of iPhones with lights on, raised in the air. Much Ado's extensive crowd involvement also included offering 'chocolate fish' to the audience as Hero and Ursula feigned fishing during their gulling of Beatrice; Beatrice's use of an audience member as a prop to hide herself; and encouraging the audience to finish lines (Dogberry's 'remember I am an…ass'). In As You Like It, Touchstone identified his 'Jane' in the audience and returned to her throughout, while Duke Frederick and his court also identified and asked for collusion from witnesses amongst the spectators in the pit. Both productions used liquids, foods, or bodily fluids thrown or sprayed across the pit as a means of humour and to remind us that we share the space. Frequent plane flyovers in As You Like It (the performance I attended took place on Remembrance Day) resulted in Rosalind making unscripted asides: 'I'm off to get an anti-aircraft missile!'; and 'Do you think the pilots know there are other pieces of sky to fly in?'. This irreverent breaking away from fiction for a shared recognition of the environment feels natural and easy in the Pop-up Globe space.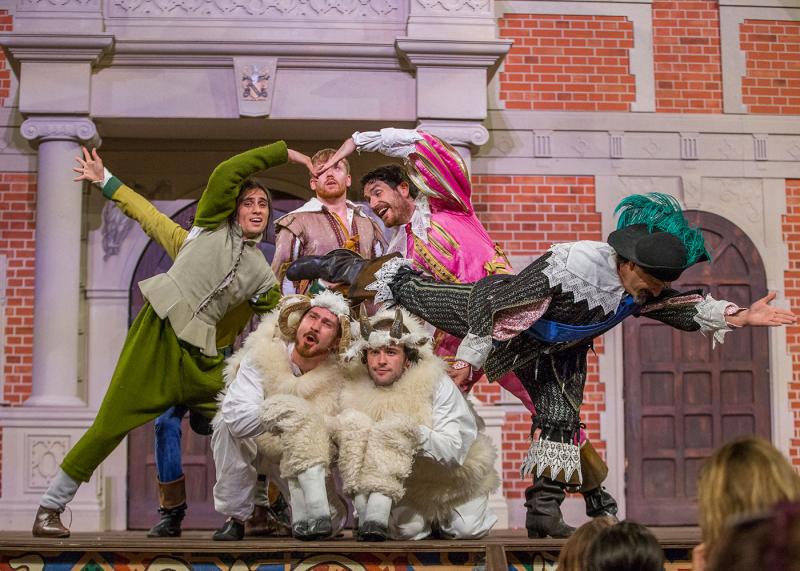 In Much Ado, the central sparring couple, Benedick and Beatrice, were played with vivacity by Jacque Drew and Semu Filipo (who also doubled as George Seacole), although it was truly an ensemble performance with a uniformly strong cast. Hero (Victoria Abbott) and Claudio (Theo David) were well-matched (although the difficulty of their reconciliation was glossed over); Haakon Smestad's German Conrade was a crowd favourite; Don John (Regan Taylor) revelled in his villainy and relished the boos and hisses he incited; other standouts were Don Pedro (Mark Dickinson) and Jasmine Blackborow as Ursula.
The music of the Queen's Company's
Much Ado
and the King's Company
As You Like It
played an integral role in generating each production's relationship with the audience.
Much Ado
's instruments included the saxophone, drum, violin and mandolin, and Semu Filipo's beautiful singing voice.
As You Like It
uses the music from
Titanic
(specifically, 'My Heart Will Go On') as one of its musical themes, providing ongoing fodder for comedy. While utilising early modern lyrics ('
Under the greenwood tree
' and '
Blow, blow thou winter wind
'), the production is not shy about incorporating modern music – with songs like One Direction's 'You Don't Know You're Beautiful' used by Orlando (Adrian Hooke) as he attempts to write poetry inspired by Rosalind, and Foreigner's 'I Want To Know What Love Is', sung with passion by Phebus (an excellent performance by Jonathan Martin and in a production twist, a gender reversal from the text's 'Phoebe'). Music was used as a medium by which to invite audience participation; Orlando encourages the audience to finish the lyrics of his One Direction 'poem', while Touchstone invited the audience to sing along to 'My Heart Will Go On'.
In the first half, As You Like It occasionally struggled to maintain its energy, and did not seem to be able to place Jacques effectively within the production. However, a phenomenal performance from the intelligent, improvising Rosalind (Jonathan Tynan-Moss) - who provided plenty of opportunities for interrogating and mocking modern stereotypes of masculinity - as well as Celia (Stanley Andrew Jackson III), along with standout performances from Stephen Butterworth as Duke Frederick, James Haxby as Oliver and Chris Huntly-Turner's Le Beau, ensured a superb second half of the production. The repeated humour around the sheep, the actors' confidence to take liberties with the production depending on unavoidable environmental factors, and ongoing slapstick and vulgar humour (including Sir Oliver Martext's drunken vomiting and Adam's repeated loss of teeth – both parts played by Barry de Lore) ensured an unpretentious, raucous production which invites the spectator to relax and enjoy a theatrical experience that expects more than silent observation from its audience.
Both As You Like It and Much Ado About Nothing fully exploited the opportunities made available from the space, both through taking advantage of the gallery, the windows, the heavens and trap, the 'rich' seats and proximity of spectators in the pit and the boxes, and even the structure around the gallery, as well as through establishing and maintaining strong audience relationships that were built and deepened across the course of both performances.