Public lecture event: Teaching Shakespeare in the New Millennium - with Professor Liam Semler
If you're in Sydney this week, you can head along to The Barker Institute to hear Shakespeare Reloaded's project leader, Professor Liam Semler, speak on 'Teaching Shakespeare in the New Millennium'.
More information about this lecture can be found below and online.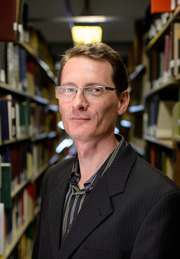 Teaching Shakespeare in the New Millennium: The Shakespeare Reloaded Project
The digital revolution and the managerial systematisation of formal education are transforming the teaching and learning of English literature. These key aspects of education in the new millennium present fresh constraints and opportunities for educators and students. Liam's presentation will give an account of how a world-leading partnership between Barker College and the University of Sydney is responding to this challenge. The project began as 'Shakespeare Reloaded' in 2008 and continues today as 'Better Strangers.' It explores innovative approaches to Shakespeare education for teachers and students and hosts the open-access Shakespeare Reloaded website (shakespearereloaded.edu.au). Liam will discuss some of the project's pedagogical experiments in the context of educational theory, in-class learning and online modules.
Event Details:
Date: Thursday 8 May
Time: 7-8.30pm
Venue: Kefford Building, Barker College, 91 Pacific Highway, Hornsby