Review: Justin Kurzel's Macbeth
Macbeth
Directed by Justin Kurzel
MA15+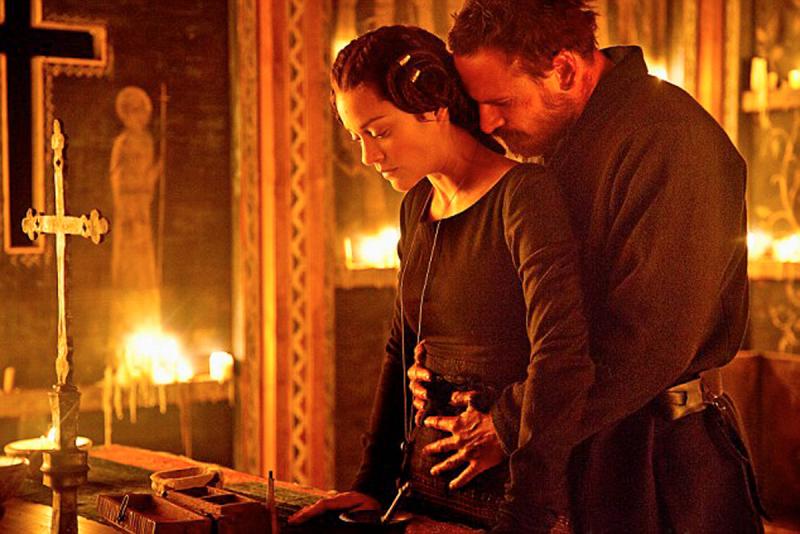 Macbeth is a play famously preoccupied with succession – and of course, with the interruption or disturbance of primogeniture.
Justin Kurzel's recent film adaptation of Macbeth (2015) hones in on this concern by highlighting the role of children amidst its bloody, dramatic landscape.
From the opening scene, in which Macbeth (Michael Fassbender) and Lady Macbeth (Marion Cotillard) bury their child (building on the relatively common assumption that the Macbeths are grieving the loss of a child), Kurzel's Macbeth incisively explores the role of children and childishness in the play.
We see Macbeth preparing for battle after burying his young child: he greets the new reinforcements – not men but young, frightened looking boys. One, in particular, draws Macbeth's attention. He is wide-eyed and pale, and Macbeth helps him prepare his weapon for battle. Later, we see his throat cut, a silent scream in slow motion during a battle scene (a battle only retold to us in Shakespeare's play). Macbeth finds his bloodied body later, and places two coins on his eyes –as we have just seen him do to his deceased son. This is one of many (chiefly visual) parallels which centre around Macbeth's unfulfilled desire for children.
The young murdered boy quite literally haunts Macbeth; it is he who holds the 'dagger that I see before me' (TLN 613). When Macbeth says, 'Come, let me clutch thee', he grabs not the dagger but the face of the young boy. It gives an entirely new reading to his reference to a
'false creation'
(TLN 618). Macbeth's hallucination or spiritual encounter is not only brought on by the violence of the deed he contemplates, but by his grief for absent children.
Even the relationship between Macbeth and his wife at times feels more like mother-son than a partnership of equals. Lady Macbeth's manipulation of Macbeth emphasises her dominance; and when he returns after killing Duncan to inform her that he has 'done the deed' (TLN 665), the film cuts the entire dialogue between them, leaving only Lady Macbeth's later line:
Why did you bring these daggers from the place?
She scolds like a mother disciplining a child, leaving Macbeth's crestfallen face with a look of boyish disappointment. This suits a play so concerned with the interrogation and performance of masculinity. The question of manliness occupies both Macbeth and his wife in the lead-up to Duncan's murder:
MACBETH

Prithee, peace.

I dare do all that may become a man;

Who dares do more is none.

LADY MACBETH

What beast was't then

That made you break this enterprise to me?

When you durst do it, then you were a man.

And to be more than what you were, you would

Be so much more the man.
The attempted murder of Fleance (Banquo's son, played by Lochlann Harris) and the gruesome murders of Lady Macduff (Elizabeth Debicki) and her children reinforce Macbeth's desire for and resentment of the children that populate the play-world. The film lingers over Banquo (Paddy Considine) and Fleance's relationship, and of children more broadly: we watch the children in the Macduff household play-fighting over a crown of branches, and the young girls of the household perform a song for Duncan (David Thewlis) and the guests. We repeatedly see what Macbeth and his wife lack. These non-authorial inclusions reinforce the film's interest and underline the play's tropes of children, masculinity and succession – and how they interconnect.
Indeed, Macbeth makes this explicit, when during the following speech he takes his dagger and aims it pointedly at Lady Macbeth's belly:
Upon my head they placed a fruitless crown

And put a barren scepter in my grip,

Thence to be wrenched with an unlineal hand,

No son of mine succeeding. If't be so,

For Banquo's issue have I filed my mind,

For them the gracious Duncan have I murdered,

Put rancors in the vessel of my peace

Only for them, and mine eternal jewel

Given to the common enemy of man

To make them kings, the seeds of Banquo kings.
Editorial choices, Lady Macbeth and the role of children
In a gruesome change from the text, the film burns Lady Macduff and her children at the stake. This also resonates with the opening funeral of the Macbeths' child; his funeral pyre visually echoes the stake at which the Macduff children are burnt alive. Macbeth stands triumphantly, eyes ablaze, while Lady Macbeth watches, heartbroken. She is increasingly sympathetic as the film develops; becoming less mad than regretful, and the deaths of the Macduff children cause a visible break in the couple's relationship. As they stand before Lady Macduff and her children at the stakes, Macbeth demands, accusingly, of his wife: "Why are you silent?" This is a fascinating textual change – the line in Macbeth is originally given to Malcolm, who demands it of Macduff (
TLN 1965
). Some of Malcolm's lines here are also ascribed to Lady Macduff, who shouts them defiantly before her death.
The Doctor and Gentlewoman's discussion over Lady Macbeth's repetitive, unstable behaviour is cut from the text. Her 'out, damned spot' speech is delivered sadly and calmly on the floor of her chapel, in pale cold snowy light. The lines of the Doctor and Gentlewoman are removed, and instead Lady Macbeth's dialogue is compressed into one monologue. You can read the full scene
here
.
The reason for this editorial decision quickly becomes apparent when the lines are run together.
What, will these hands ne'er be clean? No more o'that, my lord, no more o'that. You mar all with this starting. (TLN 2135-2137)

…

Wash your hands, put on your nightgown, look not so pale. (TLN 2154)

…

To bed, to bed, there's knocking at the gate. Come, come, come, come, give me your hand--what's done cannot be undone. To bed, to bed, to bed. (TLN 2158-59)
Curiously, Kurzel makes the decision not to show Cotillard's hands at all here. Instead, the camera lingers on her gaze – directed at something we cannot see. The lines thus begin to take on a particular inflection: they sound not like the words of a wife to a husband, or of Lady Macbeth to herself, but of a mother to a child: 'No more o'that', 'you mar all', 'Wash your hands, put on your nightgown', and 'to bed, to bed'. 'These hands' are not Lady Macbeth's but those of her child.
And indeed, Kurzel makes this explicit. At the end of her speech, the camera cuts to what occupies Lady Macbeth's attention – the ghost of the child they buried at the film's opening. Riddled with what looks to be smallpox, he sits with hands outstretched on the cold church floor.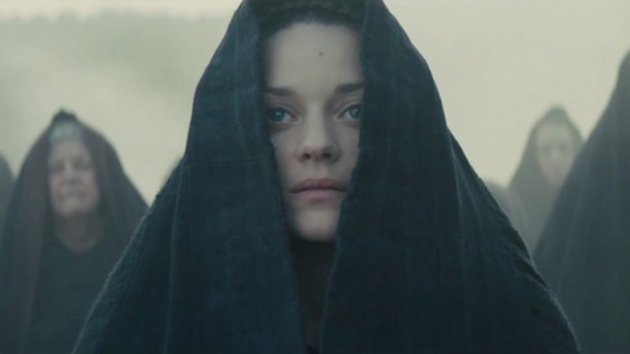 This adaptation of the text works effectively, and while it clearly moves away from the original scene's intentions, it usefully extrapolates the film's interest in children and lost lines of succession.
The film makes significant cuts to the text (the Porter and his much-needed humour is gone, as is some of the witches' dialogue – especially the infamous 'double, double, toil and trouble'). In fact, the role of the supernatural is disappointingly diluted throughout Macbeth. Banquo's presence at the banquet is rather mundane, although the scene encapsulates the awkwardness of Macbeth's behaviour and Lady Macbeth's desperate attempt to maintain social control. Further, for reasons unbeknownst to me, Kurzel gives us not three witches but four – three adults and a young girl. One of the witches also carries a baby (alive or dead, it is unclear). Breaking the eeriness and tradition of three witches seems unnecessary and confusing (several theatregoers made mention of this at the screening), but what it does do is further highlight Macbeth's own sterility. Even the witches have a clear line of succession, where Macbeth does not.
Seeing and hearing in Macbeth
Early modern playwrights sometimes differentiated between types of playgoers – 'spectators' (those who focus on watching) and 'hearers' or 'auditors' (those paying attention to the language). In Ben Jonson's The Masque of Queenes, he talks about spectators having either 'inquiring eyes' or 'quick ears'. He critiques those with 'sluggish' ears who are bored by the text of a performance.
Without wishing to simplify things by applying this seeing/hearing dichotomy, at times it feels as if the aesthetics and the language of the film work against, rather than with, each other in Kurzel's Macbeth. The adaptation frequently makes use of voiceover dialogue for monologues and soliloquies, and occasionally this does not lead to a deeper understanding of the moment but tends to jar. The striking and entrancing visual aesthetic of the film – with its sweeping, bleak landscapes, its dramatic colours, its hypnotic close-ups of Fassbender and Cotillard – is overpowering to the senses at times. In a film which overwhelms even the 'inquiring eye', it can work against one's 'quick ears'. This may be because the filmic adaptation occasionally replaces text with rich evocative imagery, so that it works in an either/or instead of complementary relationship. For example, we are not told that:
And Duncan's horses--a thing most strange and certain--

Beauteous and swift, the minions of their race,

Turned wild in nature, broke their stalls, flung out,

Contending 'gainst obedience as they would

OLD MAN

'Tis said they ate each other.

ROSS

They did so, to th'amazement of mine eyes
Instead, during Duncan's murder, we see brief cutaway shots of horses turning 'wild'. This changes the focus on reported or mediated information which is such an important element of Macbeth. The interpretation of reports and circulated information is at the heart of the play.
The film's colour palette moves increasingly towards a fiery, bloody red. The film makes the most of darkness, with occasional shots of bleak white mountains causing the viewer to flinch in surprise at the light. The climactic duel between Macduff (Sean Harris) and Macbeth takes place in a haze of red and floating ash.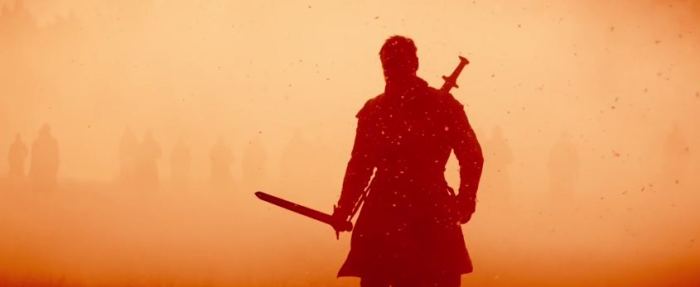 In the bright orange-red aftermath, the film returns to Fleance. Kurzel directly positions Fleance and Malcolm (Jack Reynor) in ominous opposition through its cuts back and forth between the boy and the young man. The film cuts back to shots of Malcolm, sitting alone and wearisome in the throne Macbeth has just occupied. Then, Fleance picks up Macbeth's sword, looks at Macbeth's broken body, and charges into the red mist. This moment reiterates the film's preoccupation with children, childishness, and the performance of masculinity.