Shakespeare FuturEd asks 'Why Shakespeare?'
Written by Stephanie Schierhuber in
Conference
| 15.02.2019
The 2019 Shakespeare FuturEd conference was a truly interdisciplinary experience. School teachers, academics, and theatre practitioners, working in various places and spaces, descended on the University of Sydney for two brilliant days of all things Shakespeare and education.
No topic was off limits, including the one that is perhaps most terrifying for people who have built significant parts of their lives as teachers, actors, and scholars around all that is encompassed in the word Shakespeare.
This terrifying question was articulated clearly by Joanna Erskine, Bell Shakespeare's Head of Education, in her keynote address, 'What we may be: Shakespeare as a vehicle for transformative learning'. Her moving address hinged on the chafing refrain of "Why bother?"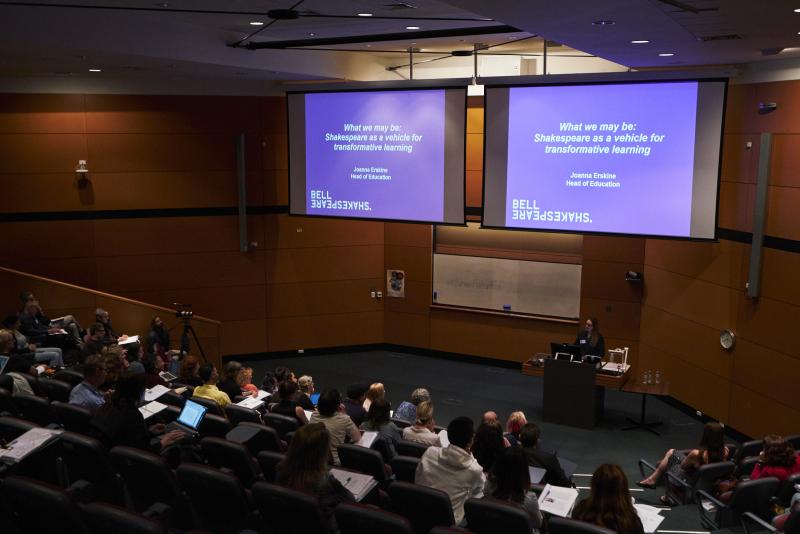 Why bother with Shakespeare at all?
As Joanna wove stories of Bell Shakespeare's work with young children, Indigenous Australians, and incarcerated youth the answer became clear, leaving few dry eyes in the house in the process.
We bother with Shakespeare, even and especially the problematic bits, because his works retain some startling capacity to engage with us. For all the time that has passed since the first performances of his drama, and the first recitations of his sonnets, the distance between early modern spaces and experiences and our own is, in some ways, not so far at all.
It seemed that in every session each paper had a unique response that reverberated against Joanna's refrain. Each response added varied perspectives and experiences to the conversation — perspectives and experiences of place, space, and engagement.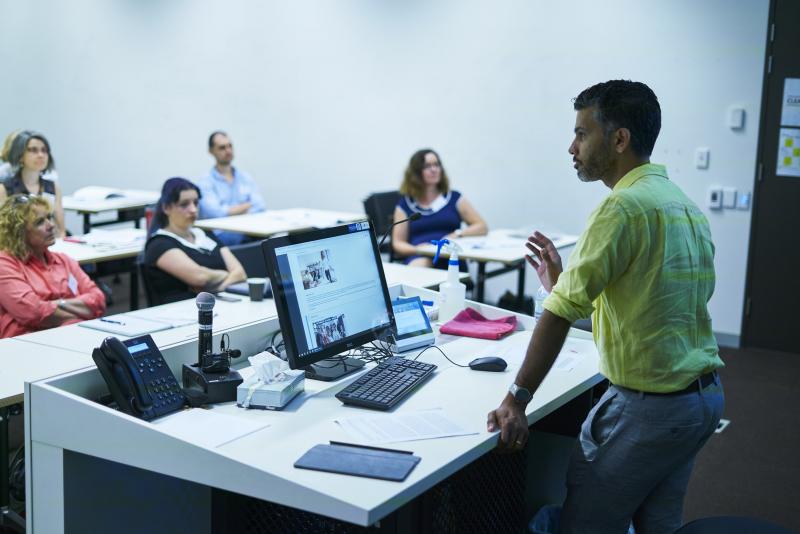 In Panel session 1: Classroom and Curriculum, Sarah Coleman (Mackillop Catholic College) brought ideas of place to the forefront in her paper, 'Talking about my Country: connecting Shakespeare's Tempest to questions of place, culture, and identity in the middle school English classroom'. Sarah spoke of teaching Shakespeare to her students within the context of their place in regional Queensland and the challenges connecting their geographical and experiential place to their reading of Shakespeare's The Tempest.
From real life places to digital spaces the conference covered it all, with a number of papers grappling with Shakespeare education online. David McInnis (University of Melbourne) talked about the potential fruitfulness of student teacher collaboration within a blended learning framework.
Pauline Fitzgerald and Sarah Morley (State Library of NSW) brought us Shakespeare in all places and spaces in their paper 'Online, onsite, and absolutely anywhere', while Victoria Bladen (University of Queensland) explored digital spaces in Shakespeare studies as a way of encouraging in-class participation from students in her paper 'Using padlet in Shakespeare Studies: an e-resource for encouraging in-class participation'.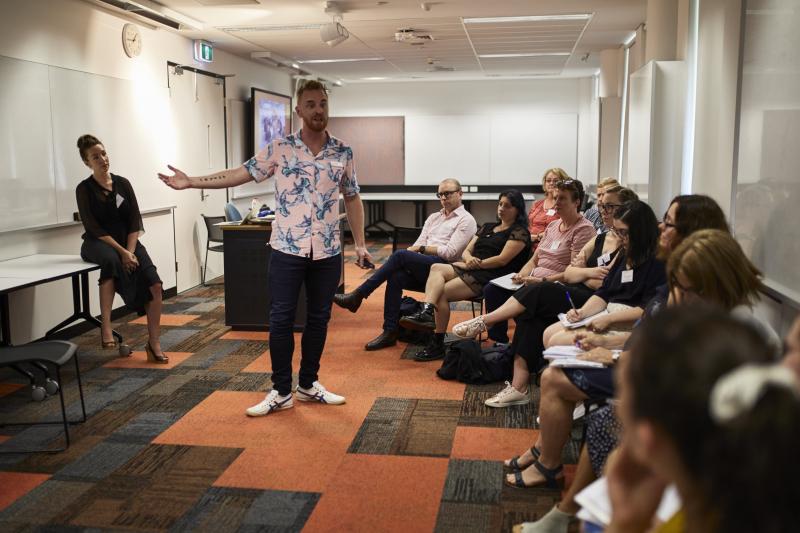 Participation and engagement were hot topics on both days as school teachers, academics, and theatre practitioners alike grappled with the issue of engaging students of Shakespeare.
Active participation reigned supreme in the workshops. Charlie Thomson (All Souls St. Gabriel's School) asked participants to break out their best rap and musical skills in his 'Shakespeare and Hip Hop: The Bard Road' workshop. Duncan Driver (University of Canberra) and Lexi Sekuless had participants pumping up their energy with a variety of teaching games in their 'Chairs, Jazz, and Perfume: Teaching Shakespeare's Sonnets' workshop.
Overall, the Shakespeare FuturEd conference was a collaborative and inclusive environment filled with a diverse and passionate range of Shakespeareans. Why bother with Shakespeare? We bother because when Shakespeare education is at its best it can lead to transformative learning experiences for our students and ourselves.
Stephanie Schierhuber is a cotutelle PhD candidate at James Cook University and the University of Groningen. Stephanie's doctoral research investigates the role of sleep in early modern English literature, with a particular focus on the works of William Shakespeare and Edmund Spenser. Her work also connects early modern medical practices around sleep with a cognitive theoretical approach. Stephanie is currently a research assistant on the Fostering Creativity in Multiform University Writing project at James Cook University, and is the post-graduate representative on the University's Research Education Sub-Committee.